The concept for Tabula Rasa was to form a band that could make people tap their feet and get up off their seat (not to quote a famous line), and that's exactly what they've achieved.  This band hits all the right grooves with every song.  From easy listening love ballads to high energy rock and reggae tunes, Tabula Rasa strikes a chord with everyone. 
Tabula Rasa is the brainchild of lead guitarist and writer Erik Berta and bass player Mark Betterly.  Meeting in a bar outside of Philadelphia, Erik and Mark shared their ideas of an original band that could make people dance. There they formed the roots of the band, combining Erik's rocker voice and complex guitar progressions with Mark's solid, funky groove to bring to life a treasure trove of raw lyrical and musical material. Drummer John Morgan joined shortly after, and the band took flight.  "John is more than a drummer and rhythm player, his ability to create complex grooves and beats that work with the songs is an exceptional ability" which rounded out a strong backbone to the group. 
In a recording session at 1311 Studios (https://www.studiothirteeneleven.com), Tabula Rasa happened across vocalist Rebecca Cooper and a new direction emerged. If you cross Aretha Franklin's soul power with Sting's precision, you get Rebecca.  She crosses genres with ease and has that soulful instinct that knows just when to unleash third gear.  Overdrive never sounded so good. 
Getting things started behind the scenes, Erik Berta writes initial lyrics and chord structures, then tosses it out to the band to get things rolling. The team collaborates seamlessly adding lyrics, adjusting chord progressions, and tweaking rhythms until the groove is just right. With the meaningful lyrics, deep rhythm section, and soaring vocals, Tabula Rasa has all the right elements to get the house rocking. "We write from everyday experience, which is why people connect so deeply with the tunes. Couple that with a really good groove and solid vocals and our audience is on their feet from the first set. The house dances when we play, that's all I know!"
Individually, each member of the band has years of experience and countless hours recording, performing live gigs and developing new material.  These guys are forging the new sound coming out of Philadelphia.
Meet the Players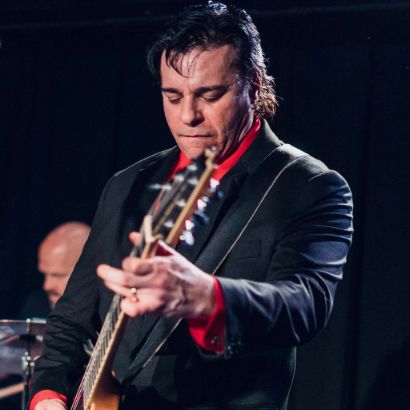 Erik Berta... started playing guitar at the age of 12.  When he was 15 he went to his first open mic held in a church.  He played Sympathy for the Devil' as his first public performance singing and playing guitar. As soon as he was done, a bat flew into the church through an open window.  Everyone freaked out and the open mic was over.  He took it as a sign.  Erik has played in many original bands in the Philadelphia area and beyond over the last 30 years.  Erik has written several albums of original music and still enjoys attending open mics, with or without bats.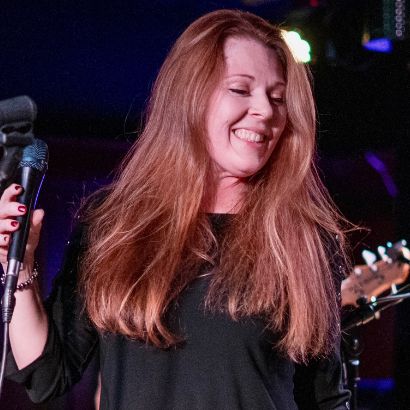 Rebecca Cooper - 
Having grown up and sung all over the world, Rebecca gets her inspiration from many musical styles, but would tell you without blinking that her favorite spaces are Blues, Soul, and Funk. Influences like Aretha Franklin, Bonnie Raitt, Susan Tedeschi, Bill Withers, Eric Clapton, Stevie Wonder, Gladys Knight, Roberta Flack spanning to more current influences like Amy Winehouse, Alicia Keys, and Meshell Ndegeocello flow through in her performances. Never one to follow the road most traveled, Rebecca forged her own path musically… happily annoying her little brother as she sang loudly around the house… developing her style over the years as she experienced many musical influences and connected with musicians all over the world. You will find Rebecca Cooper's name listed on many artists' labels, and over recent years and she has become a 'go to' female singer for many artists in the Philadelphia area.
In her early adult years, a passion for music lead to moving to Nashville to "live in a commune with a guy named Blue" (her father's words), recording by day, and drinking way too much coffee and singing and writing at night. After she settled down into parenthood, Rebecca moved to the Keys where she had a solid run with The Moondogs, then went off to pursue her MBA, moonlighting with friends' bands across the East Coast, and finally settling in Pennsylvania where she has continued her studio work, moonlights with several bands, and has played regularly at places like Dawson's Street Pub, Tin Angel, KC's Alley, Chambers19, Steel City, the War3house, and Chaplins, to name a few.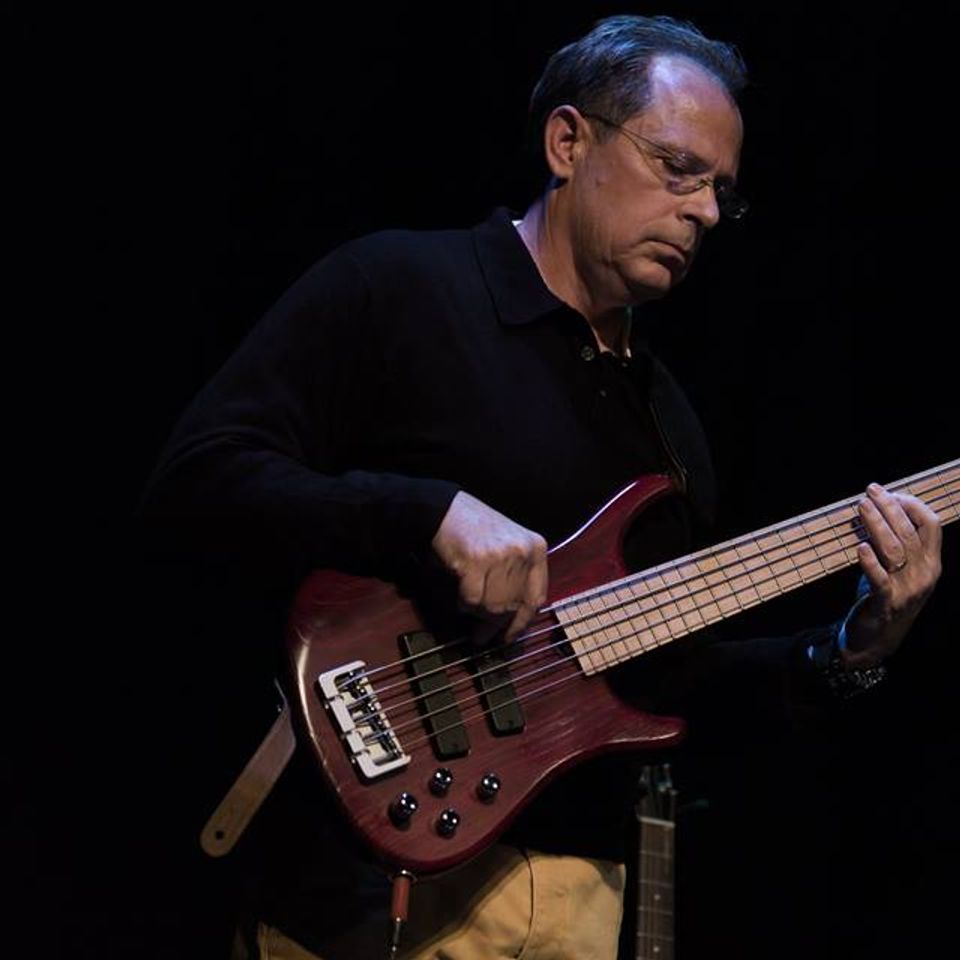 Mark Betterly ... Definitely flying to his own beat, Mark lays the down the bottom end for the Tabula Rasa. He grew up in the 60's and 70's listening to the funky sounds of the Ohio Players, Mandrill, Earth Wind and Fire and The Isley Brothers.  He started playing guitar in the 10th grade until one day someone asked him to play bass in a small 3 piece, easy listening group.  He was hooked.  Through college, Mark played in a successful jazz group performing old time jazz standards mixed with quite a few originals.  It was here that Mark learned to develop his own bass lines which pulled from his jazz knowledge and the need to groove.  Influenced only by a groovy bass line, he never cared if the genre was rock, funk, jazz or country, "if it felt like it grooved, I liked it." 
"Doing cover tunes was never a path that I felt drawn towards. Developing unique bass lines that make people tap their feet is always the ultimate goal. When I'm presented with a new song, I try to keep it as simple as possible at first then add. Some of the best bass lines ever written are the simplest, but the hardest to achieve. I aspire to come up with something as simple. Over playing is easy, getting it "right" sometimes feels like an impossible task, but when you get it, you know it."  World Cafe, Hard Rock Cafe, 118 North, Dawson's Street Pup, Steel City, the War3house are just some of the venues, in and around Philadelphia, he has worked.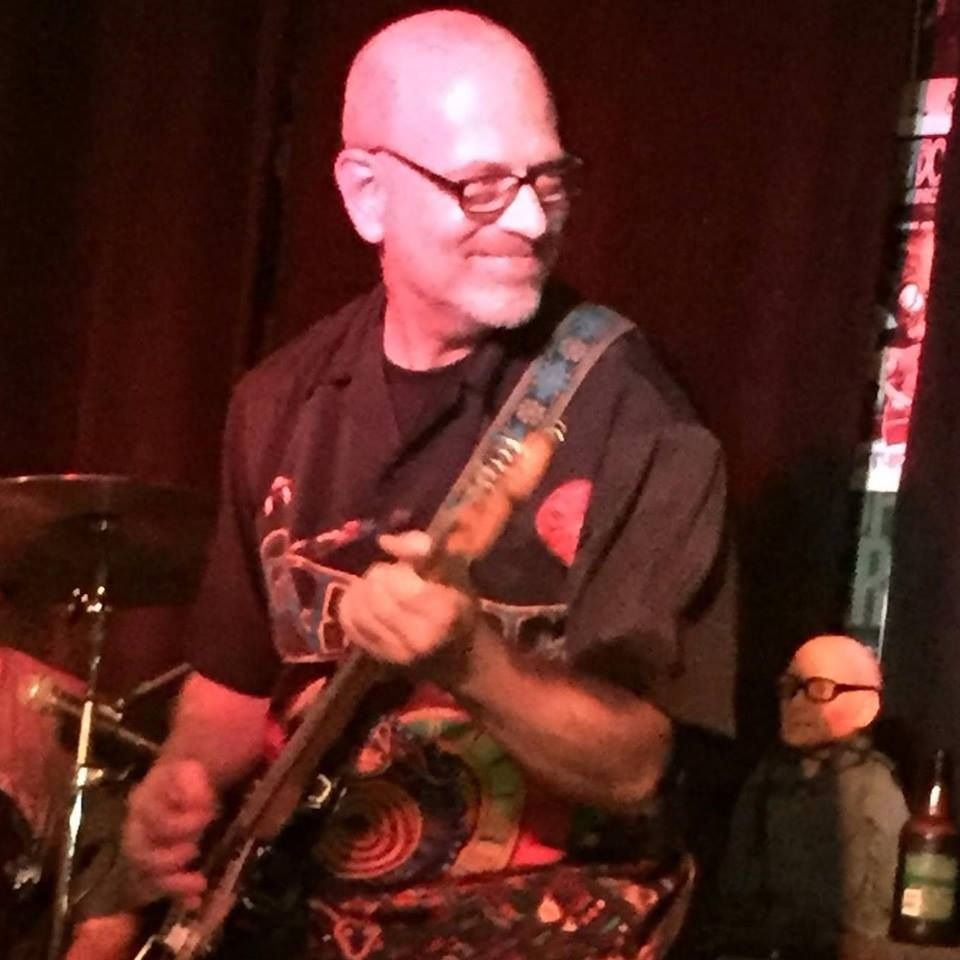 Tom Oritt - Started playing guitar at 14, inspired by all the great rock guitarists of the 70ís. He played in his first band at 17.  While a student at Columbia College, Tom conceived of, raised funds for, played on and produced an album of campus bands. Over the years, Tom has played in original bands in New York and Philly, including gigs in the 80's at CBGB.  In the 90ís, Tom played guitar for 2 years in Second Vision, Phillyís premier wedding and event band.  
Tom is excited to join Tabula Rasa: "Captivating, diverse and hooky original songs, passionate female and male lead vocals, solid musicianship - Tabula Rasa has it all!  I'm looking to add another color to what is already a rich palette."
"Come see us live! And say hello to my little friend ... Hugo!"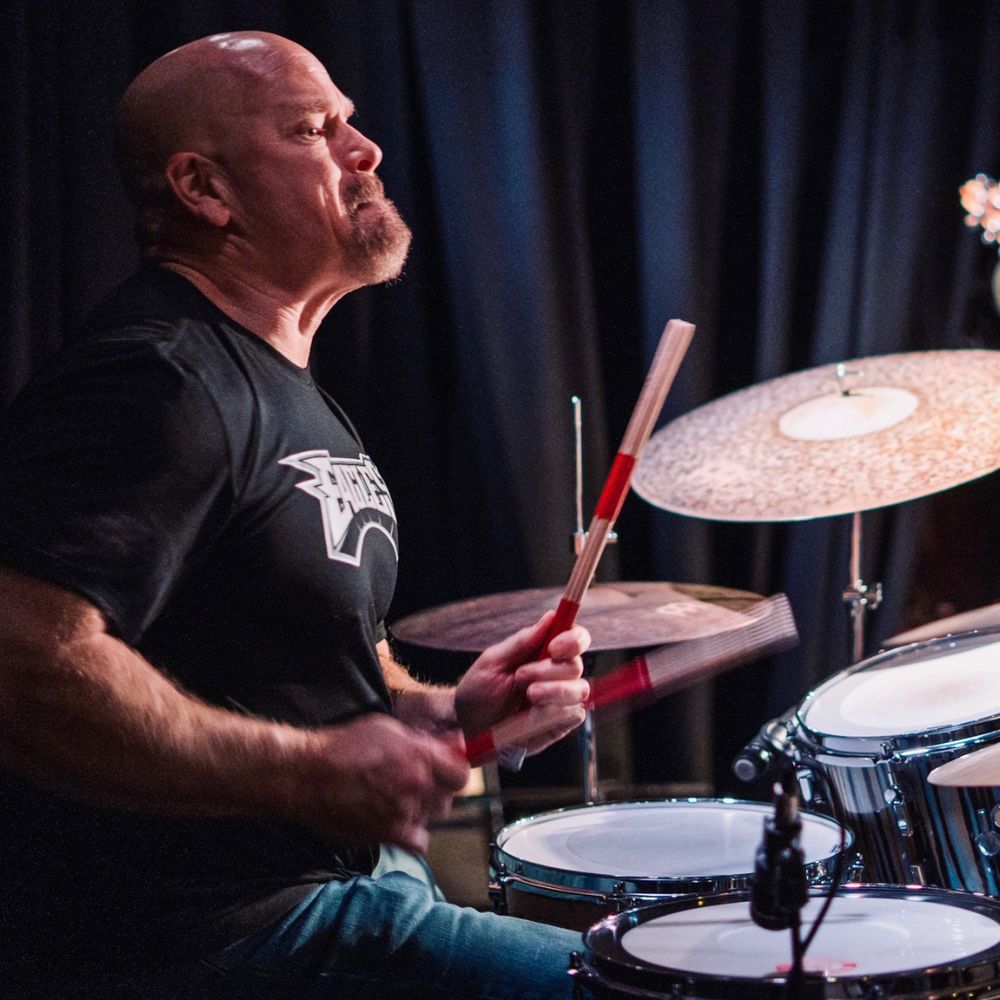 John Morgan... At an early age, John went to a Philadelphia Mummers parade and was amazed by the drummers.  After playing on pots and pans for a while, his parents bought him a snare drum from Sears.  While still in grade school, he progressed to taking lessons from Harry Yutzler, the local high school band director.  After a bit of progress, Harry recommended that John take lessons with Bob Spangler who played drums with the Glenn Miller Orchestra and Jimmy and Tommy Dorsey.  Mr. Spangler gave John a solid foundation in the rudiments, swing, jazz and sight reading. After playing in a variety of Philly based bands, John moved to Boston to further his percussion studies at Berklee College of Music.  While at Berklee, John gigged around Boston with various jazz bands and eventually returned to the Philadelphia area where he taught percussion and continued to play with a variety of bands.  Currently, John loves playing with Tabula Rasa as the band provides opportunities for interesting and challenging improvisation. John is also an avid drum collector and enjoys experimenting with all types of gear.